NIGERIA

In my youth watching international football, Nigeria were always the top African nation. Names like Okocha, Finidi George, Amokachi, Babangida, Kanu and Oliseh were all big players in world football, and were all from Nigeria. However in recent times the "Super Eagles" have slipped down the African pecking order, illustrated best by their failure to qualify for World Cup 2006, at the expense of teams like first timers Angola and Togo.

Despite the disappointments, one cannot easily overlook Nigeria. They still have some excellent quality in John Obi Mikel, Obafemi Martins and Joseph Yobo, and with "nothing to lose" I expect them to have a real go at it this summer.

The new national team boss is former Sweden coach Lars Lagerback, who took Sweden to many big tournaments with relative success. His secure and intelligent tactics will be very important for Nigeria to achieve anything this year.

Nigeria are drawn into Group B in South Africa, this puts them up against Argentina, South Korea and Greece. As I've mentioned when talking about the other nations in the group, it is a close one. Argentina have quality, but there are real worries about their ability to play as a team, and the other sides appear quite closely matched. Nigeria will have a tough time trying to get out of the group, but they have a chance.

Star Man: Joseph Yobo

In a team which is known more for their quick and dangerous forwards, Everton's Joseph Yobo at centre-half provides a required stability for the Super Eagles. Alongside young John Obi Mikel who plays in front of him in midfield, they form the defensive spine of this current Nigeria side.

Yobo has been generally regarded as one of the more solid centre-halfs in the Premier League in recent years, mainly down to his comfort in possession and superb pace for someone his size. He is an extremely important part of Nigeria's squad and will feature heavily in South Africa.

Player to Watch: Chinedu Obasi


Obasi is a player who has been on the fringe of international selection for Nigeria the past few years. Earlier in the season, the Hoffenheim striker was called up to the squad for the African Cup of Nations at the last minute and rewarded his manager's decision with some inspiring performances. He has now done enough to make the final cut for the Nigeria squad, and will attempt to continue his solid international progress.

Obasi (or "Edu" as he is often called) plays in an attacking role, usually just behind the centre forward or out on either wing. He is blessed with immense pace, on and off the ball, and his drive and determination will see him making forwards runs and then tracking all the way back to defend if needed.

He is in a similar mould to that of Carlos Tevez or even Franck Ribery, in that he can run at defenders all day long and cause constant threat. Nigeria is a tough team to play for at international level (the national pressure is unbelievable), but Obasi thrives on the pressure and always seems hungry to get as many games as possible. Now that the final squad has been announced, I am happy to see he will be on the plane, and ready to play a big part in the team.

Prediction: In a close group, potentially they could finish anywhere, but I believe South Korea have the quality to progress, and Argentina will prove too strong for the Super Eagles and Greece. Nigeria to go out in the group phase.

PARAGUAY

Another of the South American qualifiers, Paraguay will be looking to make a big impact on this year's World Cup. Traditionally they have not been one of the most successful South American nations on the big stage, but with 2010 being their fourth consecutive Finals appearance, and with a talented crop of players and their best qualifying campaign in history, the Albirroja have the right to be optimistic.

However along with all of these positive points and improvements, Paraguay and the entire football world received some truly shocking news in January, when star forward Salvador Cabanas was shot in the head following an incident at a Mexico City nightclub. Fortunately since then Cabanas has been recovering well, and was almost in contention to be selected for the World Cup squad. Though he will not be appearing, the excellent news of his recovery will be sure to spur the Albirroja on during the Finals. I wish him all the best in his continuing recovery.

Paraguay have a pretty capable squad this year, they generally go for a standard 4-4-2 formation which has strength and balance. Their strongest area of the field seems to be their forwards, shown by the fact that even without Cabanas, Paraguay have chosen six strikers who will all be challenging for the two starting places. The assumed first choice would be Roque Santa Cruz (if he regains fitness) and Dortmund striker Nelson Haedo Valdez. However waiting in the wings are Benfica hitman Oscar Cardozo, Valdez's Dortmund team-mate Lucas Barrios and young boys Édgar Benítez and Rodolfo Gamarra.

La Albirroja are placed in Group F alongside reigning champions Italy, Slovakia and New Zealand. In truth it is a pretty handsome draw for them. On their current form, Paraguay could potentially win every game in the group. Though I do believe Italy will be too strong for them, la Albirroja should make it through in second place.

Star Man: Nelson Haedo Valdez

With Santa Cruz struggling for fitness, Nelson Valdez will be Paraguay's definite starting striker. He has really proved his worth to the national team over the years; he was one of the standout performers in an otherwise poor World Cup 2006 campaign, and his goals and good performances helped Paraguay achieve their greatest ever qualifying campaign this year.

Currently plying his trade for Borussia Dortmund in Germany, Valdez adopts a centre forward role and often drifts out to the left side to support his fellow Albirroja strike partner Lucas Barrios (we'll talk about him later). Valdez's greatest attribute is his energy and effort, though sometimes he has trouble directing that energy, meaning he can spend long periods of matches without making an effect on the game.

Valdez is quick, energetic, dangerous in front of goal, and he has the heart of a lion. He fights for every ball and comes up with some important goals for the national team. He will be a very important part of the team if they are going to have any success.

Player to Watch: Lucas Barrios


Just four months ago, Argentinian-born Lucas Barrios was scoring goals in the Bundesliga for Dortmund, and hoping for a call-up to Maradona's Argentina side. However a lot can change in four months. Thanks to his Paraguayan mother, and after talking with his BvB team-mate the aforementioned Nelson Valdez, in March 2010 Lucas Barrios set about the process that would grant him Paraguayan citizenship. This now made him eligible for selection for the 2010 World Cup, and after much deliberation, manager Gerardo Martino called him up for the World Cup training camp in May.

Since then, Barrios has made his first two appearances for la Albirroja, picking up two goals in the process, and has now been chosen for the final 23-man squad for this summer's finals. It's a long way from four months ago when he was hoping to line up alongside Messi, Aguero and Tevez for Argentina.

His nickname la Pantera (the Panther), refers to his danger in the penalty area and top-notch acceleration. Barrios is a true penalty box striker, and his potency in and around the area has been an integral part in Borussia Dortmund's pleasing 5th position at the end of this year's Bundesliga.

Despite this success and reputation building, Barrios will have to work a lot harder than some of his national team mates to earn playing time in South Africa. Unlike his other home-grown team-mates, Barrios still has a lot of critics and doubters who don't believe an Argentinian should be playing for the Paraguay national team. The reality is, that if Paraguay opt for the Valdez/Barrios partnership in South Africa, they will have a proven goal scoring, match winning and crowd pleasing combination.

Prediction: As they are quite an accomplished side, they have a fairly straightforward group. However they are in the hardest half of the draw, and their second round/quarter final opponents will be some of the best teams in the tournament. I expect them to exit in the second round.

PORTUGAL

Now I must warn you, this might turn into a little bit of a rant... Back at the very start of this blog, I posted some thoughts about Portugal (read here) and in all honesty my opinion has not changed. Portugal's new Golden Generation aren't proving as successful as their predecessors, their massive egos mean they don't function well enough as a team. I mean c'mon, look at this result from last week, 0-0 against CAPE VERDE?!? I know it was a friendly and holds no real indication of how they will perform in South Africa but C'MON.

I'm not saying Portugal are a bad team, far from it, they have so much quality all over the field and I should be saying they have what it takes to win the trophy this year. I should, but I won't. Sure if by the end of July, Portugal win the World Cup, manager Carlos Queiroz is named a national hero and Portugal hail their current Golden Generation as the greatest of all time, then I will eat my deserved slice of the humblest pie in town.

Queiroz's squad selection is another thing that confuses me and I believe it is another thing that will work against their chances of winning. First of all, Pepe of Real Madrid has been chosen in the final 23-man squad. He's a top player, no doubt, but he hasn't played football since he was injured back in December, 6 months ago... Surely he has to have passed certain fitness tests to be included, so it's not like Queiroz is bringing an injured player with him to South Africa, but I'm confident he is not 100% fit by any stretch of the imagination. However, with a quality squad like Portugal, bringing one player who isn't fully fit is no problem right? Wrong. Pepe generally plays as a DMF (defensive midfielder or volante for Portuguese speakers) when he is with the national team, other players that usually play in that position for Portugal are Joao Moutinho (wasn't chosen, rightly so) and Pedro Mendes (chosen, but has picked up an injury and is struggling for fitness). So this leaves Portugal's DMF spot to two unfit players, with the rest of the midfield completely attack minded. Ay caramba Queiroz!

Also another quick problem with the squad selection: Ricardo Costa. I guess he is Queiroz's godson or something. If you've seen him play and you have also seen Zé Castro play (the player who was dropped for R. Costa), then you will know what I mean. I don't understand it.

Portugal are in Group G this summer, the "Group of Death". There they will face Brazil (who I think will be champions), Ivory Coast (truly quality African squad) and Korea DPR (unknown quantity). Sure they will be expected to go through, and they might well do, but every game is a potential loss or win based on this inconsistent, frustrating, lacking, yet quality Portugal side.

Star Man: Cristiano Ronaldo

Now he's one of the most famous players in the world, and rightly so as he is one of the best. I'll be doing a separate post about him after the World Cup, to follow the Messi & Rooney articles, so I'll keep this fairly brief.

We all know his abilities; he is lightning fast, capable of moments of magic, he has a vicious shot and his dribbling skills are probably the best in the world. For Real Madrid (and Manchester United before that) he has played world-class football with such consistency, rightfully putting him in the place he is now as one of the best in the world.

Unfortunately for the national team it is often a different story. He is the captain of the national team simply because he is the best player in the squad, and he's no captain. He's a flamboyant winger who can score loads of goals and turn the game around for his team, but the role he is asked to play for Portugal, being a "captain", can sometimes put him under too much pressure and he has been visibly struggling for his country. For Portugal's sake, they need a captain who is not just the most talented in the team, and then they can let Ronaldo be Ronaldo.

Player to Watch: Liedson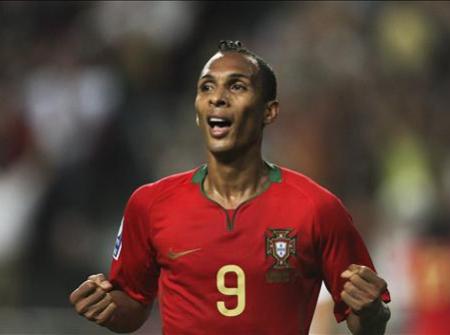 The post that I linked to earlier was when I was reviewing Liedson's first game for Portugal since gaining his dual Brazilian-Portuguese nationality. Again I don't want to keep going on about Portugal's problems as maybe it is not as bad as all that, but Liedson is now one of the most positive things to come out of what was a tight and disappointing qualifying campaign.

Before the introduction of Liedson, Portugal were really struggling to find goals. They have so many talented forwards like Ronaldo, Nani and Simao, but no true centre-forward who could stay in the middle and convert all of the crosses that these world-class wingers would provide. Their old hope was Hugo Almeida, tipped as the new Nuno Gomes, tall striker, good in the air, and they hoped he would be the main goalscorer. But Almeida struggled, he really hasn't lived up to his hype as of yet.

Enter Liedson, regular top scorer in the Portuguese league with Sporting, and now qualified to play for the national side. He provided just what Portugal needed at the end of that qualifying campaign, someone to get on the end of the crosses and someone to hover around in the area and make goals out of loose balls.

At 31 years old, Portugal will be wishing they had naturalised him sooner. He should be Portugal's main source of goals this summer, and a key part in their success.

Prediction: In my opinion, the furthest Portugal can go is the second round. They could exit in the group stage, but I believe they will manage to see off the Ivory Coast and other opponents Korea DPR to finish second behind Brasil. But then they would surely face Euro 2008 champions Spain in the next round, and they are not going to beat them.