Right, first proper entry then. Saturday 5th September, plenty Internationals played all over the world. Obviously my attention was focussed on Scotland-Macedonia, but there was also some other interesting matches available for me on the tube.

ESPN provided me with Denmark-Portugal in Group 1, but Sky Spo
rts had plenty. Not only did they show Scotland-Macedonia and
Cyprus-Republic of Ireland, but also some South American games, with Peru-Uruguay, Paragua
y-Bolivia, and undoubtedly the biggest game in the world that night, Argentina-Brasil.

Firs
t up, Scotland-Macedonia. Ok, most of you will know the situation going into this game, if not, I'll quickly post up the table as it stood befo
re this one.

Ok as you can see from that (or not, it is a little small), Macedonia, Scotland and Norway each have two games to battle it out for second place. Macedonia finish with two away games, Scotland and then Norway on Wednesday. Scotland have the opposite and play their last two games at Hampden against Macedonia and group winners Holland. Norway go awa
y to Reykjavik to play Iceland, and then as mentioned, finish at home to Macedonia. So essentially, Scotland-Macedonia was a must-win for us, as we wouldnt want to go in to the final game knowing we have to beat the Netherlands.

Ok, phew, that's the background out of the way, now to the game. We lined up with what I think is near enough my favourite formation for Scotland, the 4-4-2. Sky had it down as a 4-3-3 with Fletcher and McFadden playing wingers to Miller as a centre forward, but in the game it seemed more of a 4-4-2, with Faddy on the left of midfield with the combination of Fletcher, Alexander and Brown making up the rest of the midfield, and Fletcher and Miller playing as the two forwards. Perhaps the only change I would have made was to stick Maloney or Commons on the right wing, to let Brown play in centre midfield with Darren Fletcher and abandon Alexander's position (we were at home after all).

Macedonia looked like they were fielding a 4-3-3 for sure, Pandev playing centre forward with Stojkov and Naumoski on the wings. For me, Macedonia are still quite an unknown quantity, I missed the away game in Skopje that we lost 1-0 (didn't have Setanta at the time), and the only players I know in the squad are Goran Pandev (seen him plenty times for Lazio), Mitreski (saw him a few times when he was at Cottbus), and the right back Noveski.

Being a Scotland fan, I thought the first half was crap. Scotland
didn't look smart in possession, with Macedonia actually looking quite good. They had a really nice style when on the ball, some nice sharp passes and good movement, basically the first 20 minutes was a big reminder to Scotland that these guys know how to play football. Pandev looked a level above our defence, drawing a few fouls out of Davie Weir in good positions, and playing some lovely passes and also came close with a shot on goal that Gordon parried away nicely.

Scotland started to gain a wee bit of momentum in the rest of the first half, Scott Brown most definately the best player in dark blue. And the wee man was involved in by far the most interesting moment of the first half, when he "unsportingly" challenged for a bounce ball and thumped it off Mitreski and out for a Scotland corner.
Ok, here's my view on this: I know what Broony did wasnt exactly sportsmanlike, but people that know him as a player know he often employs some tactics designed purely to piss off his opponents, and this one worked. Just by hitting the ball against Mitreski, he rattled near enough the whole Macedonia squad, which really showed in the second half, and in my opinion, went some way in helping us win the match. I'm sure you've watched many a cup final or crunch game where someone is down on the ground injured, and you've willed the player with the ball to just play on instead of booting the ball out so it can go back to the keeper. Also it showed Broony's motivation for this particular game, as in truth this was as important as a cup final. So, I hope people realise Scott didnt do that because he is an unsportsmanlike arsehole, but because he has a competitive nature. Although admittedly I don't want to see that every week, Fair Play "rules" should be respected, but in this situation I feel Brown didnt do anything wrong.

Another thing that came from the Brown incident was the bookings of McFadden and Despotovski. I haven't looked back on the little bit of shoving and things that happened post-Broonygate, but I don't remember seeing Faddy involved. When both players were shown yellow cards, they both seemed completely bemused, asking why they were given the bookings. Couldn't comment really, but from what I saw it didnt look like either player deserved a yellow card, and yellow cards that will keep both players out of their final qualifying games unfortunately.

Now then, the second half. The first talking point for myself was when the teams came back out, they were seperated in the tunnel by security because of Scott Brown annoying everyone in the Macedonia team. Sorry but that is hilarious. Moving on... If I was a neutral I would have loved the start of the second half of this game. Both defences looked terrible, for Macedonia, Mitreski looked rocked by Brown's behaviour earlier on, and his partner Sedloski just looked like a poor player. For us, the fact that Mick McManus was lacking game time and Davie Weir's arthritis was setting in, was starting to show. Combine this with two teams searching for a goal and you get a very end-to-end match.

McFadden missed an excellent chance roughly 5 minutes into the second half, shaping up with his left foot, coming back inside onto his weaker right foot, and subsequently booting the ball out of the stadium. The game then went right up the other end, where Pandev (having a great game) made a rare mistake of judgement by choosing not to pass to Stojkov who had an open goal, and instead hitting the ball straight at Craig Gordon.

Scotland took the lead a few minutes later, a lovely ball from Steven Fletcher and an even better glancing header from (yes you guessed it) Scott Brown. Naturally I went crazy, as we all did I'm sure, but in such an open game like that, to get the first goal was so so important. And yes, such a great goal it was.

Thankfully after the goal went in, Weir and McManus started to sharpen up, while Mitreski and Sedloski still looked second-rate. Shaun Maloney and Paul Hartley later replaced the two involved in the first goal, Steven Fletcher and Scott Brown. Scotland kept up the pressure and eventually sealed the game after 80 minutes with another memorable goal. This time it was the turn of James McFadden to get the goal, after dribbling from the centre spot, past a couple of Macedonia defenders, Faddy rounded the keeper and put the ball into the empty net. A really really good goal, here's a video if you missed it.

Anyway, at that point it was game over, and with that three points we find ourselves in second spot with 10 points, after Norway could only draw 1-1 with Iceland later in the evening (YESSSS!). It looks nice, but in truth it still means we may need to take something from the game on Wednesday against the Netherlands... Unfortunately I'm in work on Wednesday. Maybe I could ask to finish at 5.

Next game I watched (don't worry I wont go on about it as much) was Denmark-Portugal. Going into the game Denmark sat on top of Group 1, with 16 points in 6 matches, unlike Portugal who found themselves third with only 9 points from 6 games. Admittedly I hadn't seen terribly much of either of these teams for a while, but both sides have quite a few recognisable players.

There was a bit of pretext to this game, with Portugal including Brazilian-born Liedson in their squad due to the fact that he has a Portuguese passport. For most people who are in the know about Scottish football, this is the same situation as the talk about Nacho Novo playing a game for Scotland. It's a discussion for another day, but when nations like Portugal (who we may well have ended up competing for a play off place with) are fielding "foreign" players like Liedson, Pepe and Deco, then maybe we should make use of what we have and start bringing in the uncapped talent we have here in the SPL.

Passports aside, this was an important game for both sides, with a win for Denmark all but confirming their place in the 2010 World Cup, and anything but a win for Portugal putting them in real trouble of missing out on the trip to South Africa. The first half was pretty cagey, with an excellent finish by Arsenal boy Nicklas Bendtner separating the two teams at the break. However with the 'man-about-town' Liedson coming off the bench at half time to get his first cap for his adopted homeland, Portugal started to gain a bit more direction about their football.

Sure enough Portugal nicked a late equaliser through a Liedson header, and the game finished 1-1. A decent game, neither of the sides played particularly well, but I mean a few years ago, you would have expected Portugal to win this match comfortably.

Times have changed for the Portuguese, the first Golden Generation have moved on (Figo, Rui Costa, Nuno Gomes) and now the new Golden Generation are upon us, with Cristiano Ronaldo, Nani, Simao, Deco, Quaresma et al plying their trade for the national team. There's only one problem: the new Golden Generation havent got the slightest idea how to play together. This is probably due to the fact they now have super-duper-mega-egos in Ronaldo, Quaresma and Nani, players that would rather skin a few more defenders and chip the keeper than just play an easy pass to their strike partner for an easy finish.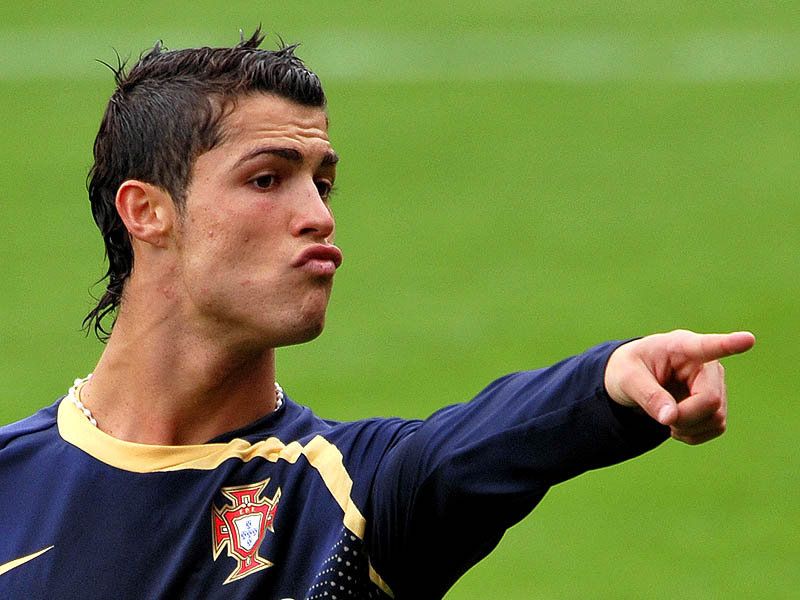 Ronaldo and Nani are (were in Ronaldo's case) successful at Man Utd because of Alex Ferguson. Quaresma could be successful under Jose Mourinho. This is because these managers just dont accept that one player is bigger than the team, in the case of the Portuguese national team, you get the feeling every player thinks they are bigger than the team. They need a good boss ASAP, as Quieroz is failing.

Ok well this was much longer than I thought. Ill try to write "Part two" tomorrow with some thoughts on Cyprus-Ireland and of course, the big one, Argentina-Brasil which I'm watching as I speak.