So this week, we have two of the biggest games of the footballing year so far. The greatest club competition in the world, the Champions League, has reached the semi-final stage, and this week sees the second legs of those ties, letting us know who will contest this year's Final in Madrid on May 22.

The first of the semi-finals is the one we have tonight, Lyon x Bayern at Stade Gerland. The first leg last week in Munich was an interesting encounter, Bayern coming out as 1-0 winners thanks to an Arjen Robben goal, but it wasn't all positive for the German giants. The sending off of Bayern's talisman Franck Ribery means he will be unavailable for selection this evening, along with winger Danijel Pranjic who reached the yellow cards limit in the first leg. If you add that to the injury to Anatoliy Tymoshchuk and fitness worries over Martín Demichelis, Daniel van Buyten and Diego Contento, we see Bayern with a depleted squad, and they will surely have to make a few changes from last week's game. However one big positive for Bayern's team selection is that they will welcome back Dutch midfielder Mark van Bommel from suspension, and he will bring a lot to their midfield in such an important game.

OL have selection worries of their own, with Jeremy Toulalan suspended after his red card last week, and there are injury doubts over centre-half Cris and winger Michel Bastos. There are also worries over the fitness of Jean II Makoun and Lisandro López, but both should play. OL will be able to welcome back French international centre-half Jean-Alain Boumsong who is fit again after injury. Another worry for Lyon is the large amount of players who are only one yellow card away from being suspended for the Final, if they were to make it through. Six of their key players (Cissokho, Cris, Delgado, Gonalons, Kallstrom and Pjanic) all of whom are expected to start this evening, would miss the Final if they were yellow carded and OL progress.


Now as I mentioned, Bayern are leading the tie 1-0 going into tonight's game thanks to Arjen Robben's goal last week in the Allianz Arena. Last week's game was a little slow at times, OL playing defensively without taking many risks going forward, meaning they were hard for Bayern to break down, but also that Lyon did not threaten their German hosts half as much as they needed to. Expect Lyon to really go for it tonight, as they know they need to score at least twice to win the tie.

I'm looking forward to a really open game tonight, with goals and both teams going forward for the win. The smart money would be on Bayern to qualify tonight, as you would expect them to score at least once during the game, and if they do, OL would then have to score three times to progress. However it would be unwise to write off Lyon, they have a really strong team this year, and you will remember they recently went to the Bernabeu and defeated Real Madrid to advance to this stage. OL have some great attacking players, Lisandro López being the pick of the bunch, a really dangerous centre-forward, who is athletic and strong, and has a great eye for goal. If OL really go for it tonight, creating chances and asking questions of the Bayern defense, then I believe they have a good chance to get the goals they need.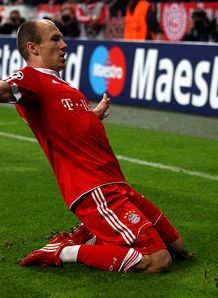 As we know, Bayern are fantastic going forward. Dutch winger Arjen Robben is in unbelievable form, scoring and creating goals. However their defense has been much less convincing, with the worst defensive record out of the four remaining teams, conceding 13 goals so far in this year's tournament. With a question over the fitness of centre-halfs Demichelis and van Buyten, Bayern will more than likely field an unfamiliar back four, and they will be hoping it doesn't affect them too much. If Bayern's defence is anything but solid, OL can really take advantage and score goals into their German opponents. Bayern are aware of this though, with Mark van Bommel saying that it isn't a problem if they leak goals, because even "if we [Bayern] concede six goals, but score five, we're through". Doesn't really make the most sense, but it seems he believes Bayern's attacking strength will compensate for their defensive frailties.

My prediction for tonight, similar to what van Bommel was saying, is 2-1 to OL. I believe Lyon will really go for it, and will find gaps in Bayern's defense, but Bayern are too good going forward right now, and I expect them to score at some point in tonight's game and seal their place in this year's Final. So there is about an hour left before the game, if you are a betting person and looking for some quick tips before the game, I'd go for my 2-1 prediction, and for most likely scorers, its got to be Lisandro and Arjen Robben.

I'll be back either later tonight or the same time tomorrow to preview the other big semi-final, Barca-Inter. So look out for that.

Enjoy the game!