So the game I am covering today is the Merseyside derby, Liverpool-Everton. These teams usually provide a good game, both exciting and ferocious, with goals and red cards often in abundance. It's often referred to as a "friendly derby" and I understand to an extent where that's coming from.

I'm not from Liverpool, I've never been to a Merseyside derby, but it seems to be more of a local rivalry than a long-running social, cultural and religious divide between two clubs, like the rivalry we have here in Glasgow. Obviously I'm not saying it doesn't mean as much as a Celtic-Rangers game for example, just that the rivalry is a little more human.

Anyway on to the game... Both teams lined up with a 4-4-1-1 formation, Liverpool with Gerrard playing behind centre forward N'Gog, and Everton with Cahill behind Louis Saha.

Benitez declined to start Alberto Aquilani, despite his recent good performances in the side. Instead Liverpool started with Lucas and Javier Mascherano in the centre of midfield, in my opinion an odd choice when playing at home. For Everton, Mikel Arteta returned from injury after just under a year on the sidelines. Still lacking match practice, Arteta wasn't risked in the starting line-up, instead the Spanish midfielder was given a place on the bench.


Going into this game, Liverpool were sitting in 5th position, only one point behind 4th placed Spurs. Since the start of the season, the most repeated quote surrounding Liverpool has been Rafa Benitez promising at least a fourth place finish, and in their current position, he isn't far off. Everton went into this game trying to extend their current unbeaten league run to 10 games, the Goodison Park side finding themselves in 9th place, a vast improvement from when they were flirting with the relegation zone early in the season.

The first half was a fiercely contested affair, both sides really getting stuck in, with strong physical challenges coming in from all angles. There wasn't much football being played, and there was a lot of fouls committed. Andy Gray on Sky Sports described it as a "war of attrition", a term that sounded cool at first, but was inevitably repeated nearly six times by Mr. Gray before the first half was over, somewhat taking away from the cool factor and bordering on the annoying factor.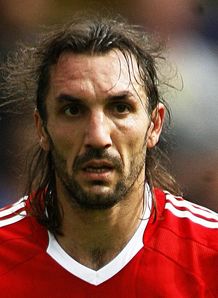 After 33 minutes, the aggressive first half was summed up by Liverpool defender Sotirios Kyrgiakos being shown a red card for a two footed challenge on Marouane Fellaini. The incident was an interesting one, as one could argue that both players fouled each other, Kyrgiakos going in with two feet, while Fellaini went in high over the ball with his studs showing. If the referee had a better view of it, perhaps he would have given yellow cards to both players, but in truth Kyrgiakos could have no complaints as it was a silly lunge.

Now as I mentioned, there wasn't that much football played in the first half, neither team looked comfortable in possession and players were often missing passes. In-keeping with the physical nature of the first half, most of the best chances came from free kicks. It was Everton with the first chance, Leighton Baines seeing his 25 yard free kick tipped over the bar by Pepe Reina, Liverpool reciprocated a while later, Steven Gerrard seeing his set-piece effort hit the bar of the Everton goal.

Everton had a great chance deep into stoppage time at the end of the first half, Tim Cahill heading over the bar from just over 6 yards. It wasn't the easiest of opportunities, but considering Cahill's ability when it comes to heading, he probably should have done better with it.

Coming out for the second half, both teams knocked the ball around a bit more, and we got the first goal of the game after 53 minutes. It came for Liverpool, with Dirk Kuyt heading home after a deep corner from Steven Gerrard. It wasn't the prettiest of goals, but it was truly a great delivery from Gerrard, and Kuyt's positioning, playing just off goalkeeper Tim Howard, allowed him to nod into the net from close range. The goal did come as somewhat of a surprise, with Everton in the ascendency, and Liverpool playing with ten-men.

After the goal, Liverpool stayed in control, looking happy to knock the ball around, trying to throttle the game. David Moyes in the Everton dugout tried to change it up by bringing on both Yakubu and Victor Anichebe for Saha and Osman respectively, but if anything, it just made Everton's attack a little too congested.

Anyway, as I said Liverpool did seem content just to try and draw the life out of the game, with some calm passing and steady build-ups. Everton on the other hand, when they got possession, I couldn't help but feel they were trying a little too hard to get behind the Liverpool defence. It didn't help with the fact that Liverpool were bringing a lot of players back behind the ball when not in possession, so it did mean a lot of Everton attacks were quickly foiled by over-eager attempts to get the ball to the centre forwards.

With time running out, all of these failed attacks were making Everton frustrated, eventually leading to Steven Pienaar being sent off for a second bookable offence in stoppage time. Not the best decision, and with time running out there was no need for the referee to show the red card as it wasn't a particularly bad challenge at all.

So Liverpool took the points, despite playing most of the match with a one man disadvantage, moving them up to the 4th spot Benitez has been promising all season. This was certainly not a classic Merseyside derby, neither team played particularly well, Liverpool barely doing enough to win, and Everton evidently didn't do enough to try and get back in the game.

I'm sure David Moyes will be frustrated, not only did they lose to their rivals whilst having a one man advantage, but their unbeaten run in the Premier League also came to an end. Moyes' double substitution in the second half, bringing on both Yakubu and Anichebe could have worked out in two ways; it could have spurred on their attack, or it could leave them over-crowded. Unfortunately for them, it was the latter, and with Anichebe, Yakubu, Arteta, Donovan and Cahill all working hard in the final third, they seemed to suffocate themselves.

Another quick talking point on the game, Liverpool won an important game 1-0 with the only goal coming from Dirk Kuyt. How many times have you heard that sentence? Dirk Kuyt does get a lot of criticism at times, granted a lot of it is justified as he isn't a real quality player. However the role he plays in this Liverpool side is so vital.


There are so many teams around the world just crying out for someone like Kuyt, a player who will chip in with really important goals in some really close ties. Of course, it's never a moment of inspired genius when he scores, he doesn't pick the ball up on the half way line, beat four defenders and chip the keeper, instead Kuyt always seems to be there to turn in a scrappy finish, often helping Liverpool to a close victory.

Liverpool: Reina, Carragher, Kyrgiakos, Agger, Insua; Maxi, Lucas, Mascherano, Kuyt; Gerrard, N'Gog.

Everton: Howard, Neville, Distin, Heitinga, Baines; Donovan, Fellaini, Osman, Pienaar; Cahill, Saha.

Man of the match: Pepe Reina (Liverpool)